X-Carve 101
Jan 30, 2020
5:00 pm - 7:00 pm
Learn the fundamentals of 3D design and carving to customize your projects and elevate your skills.
What is an X-Carve?
X-Carve is a 3D carving machine that can carve projects in wood, a variety of plastics (e.g. acrylic and HDPE) and other materials. Many other companies refer to machines like X-Carve as a CNC milling machine, CNC router, or CNC routing machine.
What is CNC?
Numerical control (also Computer Numerical Control, and commonly called CNC) is the automated control of machining tools (drills, boring tools, lathes) and 3D printers by means of a computer. A CNC machine processes a piece of material (metal, plastic, wood, ceramic, or composite) to meet specifications by following a coded programmed instruction and without a manual operator.
How does it work?
Once a design is rendered, the X-Carve software assists in "transferring" the data to Gcode. Gcode is the standard coding language for CNC-controlled machines like X-Carve. The gcode coordinates tell the machine where to move, how fast to move, and how deep to carve into your material during the course of your carve.
What can I make on an X-Carve?
Many people use X-Carve to make gifts for friends and family members, items to decorate their home, and products to sell. Some of the most common products our customers create are signs, trays, toys, guitars, home decor products, games, kitchen accessories, and furniture. The possibilities are endless. Check out some x-carve projects here.
This course is designed to teach the fundamentals of X-Carve Design and Operation through three weekly meetups. This course is open to all ages; however, any participant under the age of 14 must be accompanied by an adult.
NOTE: This class will be beneficial for those interested in 3D Printing & Design as well. We encourage you to join us on the 2nd class day (February 6, 2020) to share design tips and best practices with the 3D carvers.
Our Location:
MAKE IT Evansville is located at the lower level of Innovation Pointe, 318 Main Street. Street parking is available on the street.
Parking:
Downtown Evansville features ample parking, including more than 1,500 spaces in City owned parking garages on Locust St., Third St. and Sycamore Street. Walking distance is approximately 1.5 blocks from each garage to MAKE IT Evansville.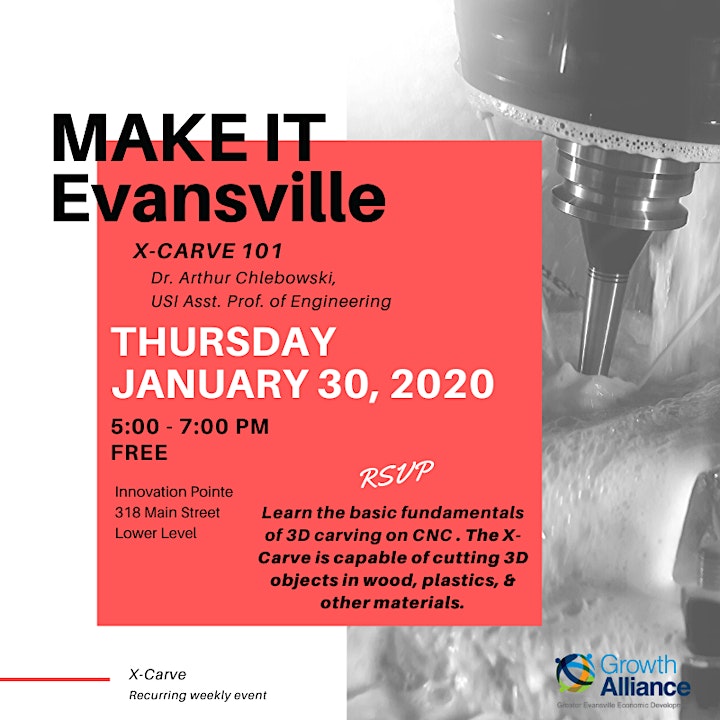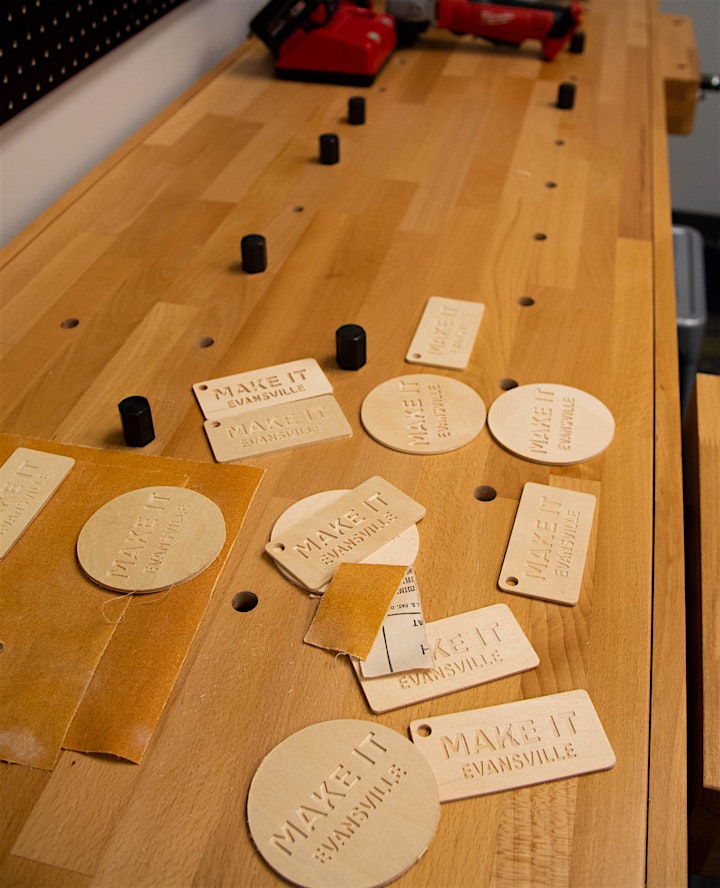 MAKE IT Example: We made these coasters for our soft launch, each cutout took approximately 5 minutes of carving time.